Laura Baquero (Biology, 2017)
I graduated from MSU Denver in December 2017, and I am currently conducting research in the Filbin Lab while studying or the MCAT and preparing to apply to medical school or to a medical scientist training program. I am interested in the immune system and determining how bacteria either cause disease or contribute to the development of medication.
My research will focus on the non-translated regions (NTR) of genomic RNA 1 of the plant virus Blackcurrant reversion nepovirus (BRV) and expanding on the work that Liz Shields completed during her time in the lab. I will work in conjunction with Evan Morrison to determine the structure of the BRV RNA 1 genome and how the structure of this RNA determines its function, especially in light of what we are learning about the second genomic RNA of this virus.
___________________________________________________________________
Scott-Wesley Bean (Biochemistry, 2019)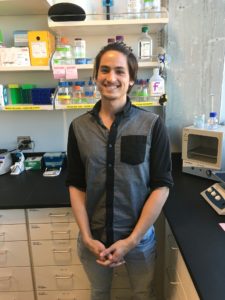 I am a Biochemistry undergraduate at MSU Denver with a background in soil microbial ecology research. I am particularly intrigued by how cells function as a consequence of variations and modifications in biomolecules which governs their physiological and communication systems. Following completion of my undergraduate degree in Fall 2019, I plan to apply to Master's and PhD programs focusing on biochemical and cell biology research. Working for the Filbin-Wong Research Lab has encouraged me to investigate biochemistry-oriented research questions and to approach problem solving from a structure-function perspective.
My research involves the study of a specific RNA structure found in one of the two genomic 3' untranslated regions (UTRs) of the Blackcurrant Reversion Nepovirus (BRV). More specifically, I'm working to determine the critical secondary structures of the RNA2 cap-independent translation enchancer, that are involved in the initiation of translation. A clearer understanding of BRV could contribute to the prevention and control of Blackcurrant Reversion Disease (BRD), a disease affecting the cultivation of the Blackcurrant plant, and shed light on vital processes that govern this unique class of nepoviruses.
LinkedIn Profile: https://www.linkedin.com/in/scott-wesley-bean-4a048412b/
_________________________________________________________________________________________
Isaiah Jackson (Biochemistry, 2017)
I've recently graduated and acquired my Bachelors of Science in Biochemistry at Metropolitan State University of Denver. I am currently applying to graduate and medical school joint programs in the hopes of obtaining both a MD and a PhD within the fields of either Robotics, Biomedical Engineering, or Bioengineering. The area of research that intrigues me most is in the development of more novel prosthetic limbs.
My research will be directed towards studying and determining specific protein factors that are essential for the initiation of process of translation to occur within the Blackcurrent Reversion Nepovirus (BRV). Understanding which protein factors are essential for BRV may be able to give insight into other similarly structured viruses that potentially utilize the same protein factors for initiation of translation.